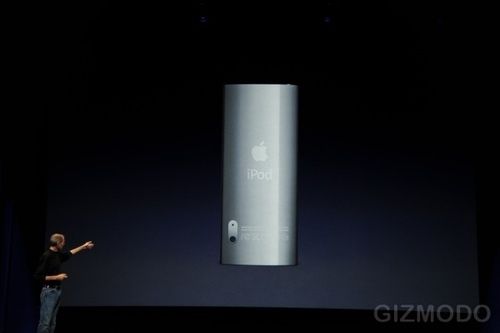 The most exciting news from the Apple's Music Event is the upgrade to iPod Nano. The upgrades involve a camera, FM radio, voice recorder and a pedometer. With the camera being obvious after so many speculations and rumors, the FM radio and voice recorder are truly a surprise.
Stave Jobs announced the camera as a 'free' addition to the iPod nano, with 8GB model available at $149 and the 16GB at $179. The nano is sized 1.1 cubic inches. Stave Jobs also insisted n his presentation about 'free' camera on iPod nano, with an average portable flip camera with 4GB storage available for $149.
The new nano would have a larger 2.2" display with voiceovers to tell the user what track is being played currently. The pedometer would calculate the number of steps taken by the user would sync to the Nike+ software.
Integrated video camera can take pictures and record videos. The videos can also be uploaded on YouTube with a single click when the iPod is sync with the computer.
Wouldn't it be more cool if the iPod touch had the camera instead? Anyways, iPod nano with all those upgrades would not be a disappointment for sure.

via [AppleInsider]